Broome
Broome is a tropical oasis nestled between the blue waters and white sandy beaches of the Indian Ocean and the red and green landscape of the Kimberley wilderness.
Broome simply oozes with colour. It's Western Australia's secret getaway - right on the Indian Ocean's doorstep and the gateway to Australia's last frontier of pristine wilderness - the Kimberley. From its rough and tumble, romantic pearling history to the cosmopolitan character of Chinatown, to the turquoise waters, red sandstone cliffs and the endless expanse of white sand at Cable Beach, the colours and moods of Broome will capture your soul. You'll never want to leave!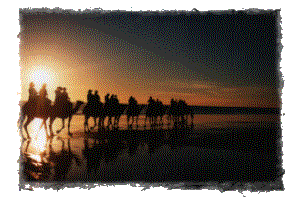 Established as a pearling port in the 1880s, Broome has a romantic and often flamboyant history. It was populated by hearty people of many nationalities - mainly Europeans, Malays, Chinese and Japanese, as well as Australia's Indigenous People - who flocked to the shores of Roebuck Bay in the hope of making their fortune from the pearling industry. The influence of the pearling industry, with its cultural melting pot, has helped to create the distinctive character and charm of Broome. Pearling remains one of the town's major industries due to the cultured pearl, which revived the industry after its near demise in the late 1950s. South Sea Pearls are recognised as the best in the world and the pearl outlets in town are a showcase to the quality of Broome pearls.
With the spirit and majestic charm that is Broome, most of Australian Adventure Travel's tours start or finish in this town that has become the best place on earth for many people form all over the world.
Our adventures which include Broome are: