DEPARTS BROOME: Saturday - June to August 2015
TOUR COST:
Adult: $2995.00 p/person twishare AUD
No single supplement if willing to share
Please click here to make a booking on our secure server.
Tour Highlights:
See the remarkable Kimberley region the best way way possible on our Kimberley camping tour. This tour takes in all of the highlights of the Kimberley - all you have to do is sit back and enjoy the sights and sounds!
Our 11 Day Kimberley camping tour takes in Windjana Gorge, Tunnel Creek, Silent Grove, Bells Gorge, Manning Gorge, 2 nights at the world famous El Questro Station, 2 nights in Kununurra, 2 nights in the Bungle Bungles, Fitzroy Crossing and Geikie Gorge.
Our comfortable Camping tours stay only at designated camping grounds, with the best facilities available. We provide 4 person tents for 2 people, self inflating air mattresses and stretchers are available on request.
Fresh meals are prepared daily and you will be surprised at the delicious meals our experienced guides can prepare in the outback!
Full size camping chairs with backs are provided for your comfort - no horrible camping stools on our tours! We also provide tables for those of you who want to dine in style in the outback!
Once you make a booking with us, a full detailed suggested packing list and tips will be provided to help you prepare for your Kimberley camping adventure!
Make sure you have a few memory cards for your camera as you will have numerous photo opportunities on this camping tour - there is something for everyone! For those who are interested in birds, the Kimberley is a bird lovers paradise. Wildlife is abundant as is some unique flora and fauna. Swimming holes, gorges and waterfalls and spectacular Kimberley sunsets makes our 11 Day Kimberley Safari tour a photographers paradise!
Australian Adventure Travel are 100% proudly Western Australian owned and operated and we have been running tours through the Kimberley for 20 years. We are a small family run business who take pride on providing top quality camping tours through the Kimberley. Rely on our experience to take you on your adventure of a lifetime - it's what we do best!
Our tour groups are small in size - a maximum of 15, so you won't feel lost in the crowd.
Let Australian Adventure Travel take you on your 4WD Kimberley camping tour - you won't be disappointed!
11 Day Kimberley Safari Tour
Kimberley Gibb River Road Broome to Broome
Kimberley Australia Tour: Gibb River Road, Cable Beach Broome, Derby, The Kimberley, Windjana Gorge, Tunnel Creek, Bells Gorge, Manning Gorge, King Leopold Ranges, Aboriginal rock art, wildlife, El Questro Station, Zebedee Springs, Kununurra, Bungle Bungles, Geike Gorge
The Gibb River Road tour is the Kimberley's most comprehensive eco adventure. For people who wish to experience the atmosphere of unique Kimberley wilderness, you must join this once in a lifetime Australian outback camping tour. Our experienced Tour guides will introduce you to the incredible scenery, Aboriginal art and wildlife that makes the Kimberley one of the world's great wilderness areas.
Itinerary
Broome - Windjana Gorge
DAY 1: Depart Broome at 07:00am and head to the Derby Prison Tree for a short visit. We leave the bitumen behind us as we enter the Gibb River Road, almost instantly we can feel the remoteness. A walk up Windjana Gorge this afternoon is sure to impress. Camping overnight Windjana National Park. (L/D).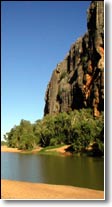 Gibb River Road Kimberley Tour DAY 2
Windjana - Bells Gorge
This morning we're off to Tunnel Creek so have your bathers and torches ready!! This amazing tunnel cuts through the Napier Range and is rich in history as your Tour guide will explain. Afternoon sees us off to Bells Gorge. Camping overnight Silent Grove. (B/L/D).


Gibb River Road Kimberley DAY 3
Bells Gorge - Manning Gorge
Leaving Bells Gorge this morning, we travel through the beautiful scenery of the Kimberley's highest mountain range, the King Leopold Ranges, on our way to Galvan's Gorge. This gorge will tempt you to don the bathers. For those feeling like a walk, a visit to Manning Gorge this afternoon is recommended. Camping overnight Mt Barnett Station. (B/L/D).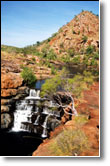 Gibb River Road Kimberley Tour DAY 4:
Manning Gorge - El Questro
Our journey today takes us through the majestic Cockburn Ranges, have your cameras ready for the spectacular scenery and panoramic views of the Cockburn Ranges, Cambridge Gulf and the twin rivers of the Durack and Pentecost. Camping overnight El Questro. (B/L/D)


Kimberley Tour DAY 5
El Questro
An exciting and relaxing day today. The morning sees us soaking in the thermal pools of Zebedee Springs, we then spend a free afternoon with the option available to spend a fun afternoon exploring Chamberlain Gorge in a dingy (small boats) to view the wildlife and Aboriginal art of the area. Camping overnight El Questro Station. B/L/D.

Kimberley Tour DAY 6
El Questro - Kununurra
This morning we enjoy a walk to stunning Emma Gorge on El Questro Station, with a rewarding swim in the crystal clear waters. We then depart El Questro and continue on our journey to Wyndham and marvel at the view from Five Rivers Lookout. After lunch we travel on to Kununurra with a short stop to view the bird life of Parry Lagoon and set up camp on the edge of Lake Kununurra. Camping overnight Kununurra. (B/L/D).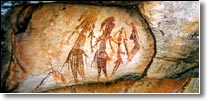 Kimberley Tour DAY 7
Kununurra
A free day to enjoy the many attractions of Kununurra. Some suggestions for your free day - visit the plantations in the area, take a boat cruise along the Ord River, or on Lake Argyle, book a fishing trip on the lower Ord River, or take a scenic flight over the spectacular Mitchell Falls. These are only some of the optional tours available to you. Camping overnight Kununurra. (B).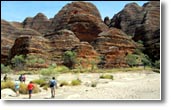 Kimberley Tour DAY 8
Kununurra - Bungle Bungles
An early start this morning. We head south for an interesting scenic drive through the mountain ranges to Turkey Creek before tackling the slow 60 kilometre drive into the Aboriginal Bungle Bungles. Here we'll see unbelievable beehive formations and plunging gorges. A visit this afternoon to Echidna Chasm with its sheer rock face. We set up camp at one of the campsites in the Purnululu National Park and relax whilst enjoying the sunset on the Aboriginal Bungle Bungle Massif. Camping overnight Bungle Bungle National Park. (B/L/D).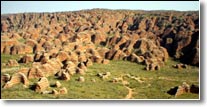 Kimberley Tour DAY 9
Bungle Bungles
First thing on today's itinerary should be an unforgettable helicopter flight over the Aboriginal Bungle Bungles. Whilst this is an optional extra, it is highly recommended. We will then drive to the other side of the Bungle Bungles for an easy walk through spectacular gorges and the bee hives, including Cathedral Gorge. Camping overnight Bungle Bungle National Park.
(B/L/D).
Kimberley Tour DAY 10
Bungle Bungles - Fitzroy Crossing
An early start back to the main road and on to the once thriving gold town of Halls Creek. Then on to our overnight stop at Fitzroy Crossing. Camping overnight Fitzroy Lodge. (B/L/D).

Kimberley Tour DAY 11
Fitzroy crossing - Broome
Pack up camp for the last time and travel to Geike Gorge for a morning visit. You will have an opportunity here for a boat cruise on the Fitzroy River and Geike Gorge. We then make our way to Cable Beach Broome, where your Kimberley experience officially ends. (B/L)

Book your once in a lifetime Kimberley adventure now! Email us info@safaris.net.au or use the booking form on this page.

Phone: 0434 923 274

Departure Dates

2015 Dates - Saturdays

06 June 2015

20 June 2015

04 July 2015

18 July 2015

01 August 2015

... Google+ ...