Ningaloo Reef
Whales, dolphins, dugongs, manta rays, huge cod or sharks can be seen in abundance at the 260-kilometre-long Ningaloo Reef.
The reef offers world class diving through to family snorkelling in sheltered lagoons crammed with coral gardens. Ningaloo is the largest fringing coral reef in Australia. It is the only large reef in the world found so close to a continental land mass; about 100 metres offshore at its nearest point and less than seven kilometres at its furthest. The park covers more than 4000 square kilometres and was declared in 1987.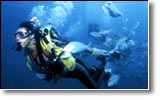 Clownfish bathing in anemone tentacles, attractive lionfish or predatory moray eels are just some of hundreds of species of colourful tropical fish that can be seen. The coral reef fish of Ningaloo are among the most colourful and beautifully patterned of all living creatures. Even the novice snorkeller can swim in the shallows and witness an amazing variety of fish life. They live in and around more than 180 species of coral, ranging from the cabbage corals, brain corals, lavender corals, delicate colourful branching corals, which form gardens in the shallow lagoons.

From mid-March to mid-May each year visitors from all around the world converge on Ningaloo for the experience of a lifetime - diving with the awesome whale shark, the world's biggest species of fish. Ningaloo Reef is the only easily accessible place in the world where these giants appear in large numbers at predictable times of the year. Whale sharks reach more than 12 metres long and weigh more than eleven tonnes. You do not even have to be a scuba diver to swim with these massive animals, as they swim close to the surface.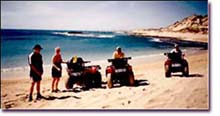 Coral Bay is the perfect place to view the mass coral spawning, a three day event that begins a week or so after the full moon during March and April. Each night, many species of coral suddenly release millions of bright pink egg and sperm bundles which float to the surface of the water, as though engaging in a spectacular underwater dance.
Our adventures which include the Ningaloo Reef are: