Coral Bay
Coral Bay is a small settlement that lies protected from the Indian Ocean by the Ningaloo Reef.
It is Australia's only fringing reef. In contrast to other locations the coral starts right at the water's edge. The fish and the coral are easily accessible and can be experienced either snorkelling or on one of the Coral viewing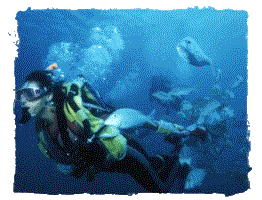 boats.
Coral Bay is about 50 km to the North of the tropic of Capricorn, some 120 km south of Exmouth in Western Australia. The weather is mild, without the humidity that is often associated with tropical climates. It comprises a resort hotel, two caravan parks and about 20 houses. It is a holiday destination for both Western Australians and travellers from all over the world, who come to Coral Bay to experience such an ideal simplistic lifestyle.
There is excellent fishing outside the marine park at Coral Bay. Snorkelling, Scuba and Snuba are all available as is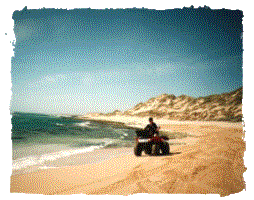 lying on the beach in the sun.
Whale Sharks come to the area between March and June. The largest fish in the world, they can grow to 14 meters in length. Whale Sharks are filter feeders that live off plankton and krill and thus are entirely safe to swim with.
From the months of June to October the Coral Bay area of the coast sees the migration of the Humpback Whales.
Turtle nesting occurs on local beaches between November and February. The Green, Loggerhead and Hawkesbill turtles are often seen in the shallows and by the reef as part of one of the many tours Australia Adventure Travel has into Coral Bay.
Our adventures which include Coral Bay are: