Monkey Mia Dolphins
Monkey Mia is one of the few places in the world wild Dolphins visit the shore to meet their human visitors. This beach is unique for it is here that you have the opportunity to hand-feed the local wild dolphins from the shore in Monkey Mia.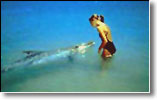 For almost 30 years, 3 generations of wild bottle-nosed dolphins have made a ritual of visiting a remote beach at the small settlement of 'Monkey Mia'. Most mornings between 7.00am and mid-day, small groups of dolphins, all well-known and identified by their distinctive dorsel fin markings, visit the beach to interact with visitors who can walk amongst the dolphins in the shallows and feed them under the supervision of rangers.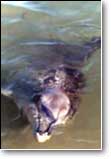 The feeding of the Monkey Mia dolphins is very strictly controlled - only freshly caught local fish are fed to the animals and never more than one-third of each dolphin's daily food requirement is offered at the beach. This is to ensure that the animals do not become dependant on human handouts. A separate section of the beach is set aside where visitors can swim with the dolphins and observe their antics and family interactions.Monkey Mia is one of the most important dolphin research centres in the world, the clear shallow waters of the bay makes it easy to observe the animals in their natural environment.
Our adventures which include Monkey Mia are: