The Kimberley Region
The Kimberley is one of the world's last great wilderness regions. It covers an expanse of nearly 423,000 square kilometres (three times the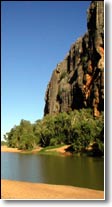 size of England) with a population of only 25,000 people. In fact, the Kimberley has fewer people per square kilometre than almost any other place on earth.
It is situated in the far north west of Western Australia and its immense and ancient landform encompasses rugged ranges and spectacular gorges, cascading waterfalls, mighty rivers and complex cave systems. There are pockets of lush rainforests and an astonishing variety of wildlife. Huge turtles, predatory saltwater and freshwater crocodiles share this ancient land with Australia's unique marsupial kangaroos, wallabies and prolific bird life.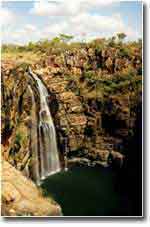 Floral treasures abound that provide a kaleidoscope of coloured wildflowers, waterlilies, pandanus and fan palms and the magnificent Boab trees. Mother Nature rules in this rugged and remote landscape. Although you need to carefully plan for the expected, you also need to be ready to experience the excitement and exhilaration of the totally unexpected! Things may not always go according to plan and at certain times of the year the spectacular Kimberley weather will provide you with a whole new perspective on the natural elements. But with careful planning, supported

by the local knowledge and expertise of our tour guides, there is still so much to see and do. You are guaranteed to receive a rewarding and memorable holiday experience, no matter when you visit us.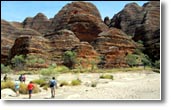 To truly appreciate the wonders of the Kimberley region, take your time. Meet the people, absorb the history and take in the natural beauty.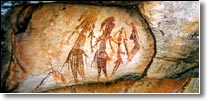 Seek out the opportunity to discover secret spots known to just a few. The Kimberley is a vast and pristine area and to explore it is an adventure you will never forget and cherish forever.
Join one of our Kimberley tour adventures on our 11 Day Kimberley Safari Tour. Our adventures which include the Kimberley are: