Western Australia Perth to Broome
9 Day North West Adventure
9 days of amazing scenery, abundant wildlife and adventure activities, definitely one of Western Australias best adventure. Explore all the coastal highlights between Perth and Exmouth before heading into the Western Australian Outback. Travel to some of the worlds oldest mountains as you discover the amazing Karijini National Park. This spectacular adventure finishes in Broome or we can arrange additional touring through to Darwin.
Itinerary
DAY 1: Perth – Northhampton
We depart Perth and travel to W.A.'s unique Pinnacle Desert. After walking through this desert of limestone spiers, we make our way to the historic town of Northhampton. Overnight Northhampton. (L/D)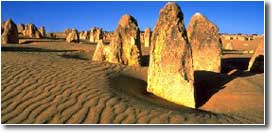 DAY 2: Northhampton – Monkey Mia
Explore coastal and inland regions of Kalbarri N/Park including "Natures Window" and "The Loop" seeing abundant wildlife and spectacular scenery. Continue north to Shark Bay and the Stromatolites before continuing to our overnight stay at Monkey Mia. (B/L/D)
DAY 3: Monkey Mia – Coral Bay
This morning we visit the dolphins of Monkey Mia, one of a few places in the world dolphins from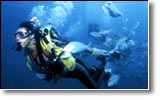 the "wild" come to meet people. The morning is spent interacting with these amazing creatures (Dolphin appearance not guaranteed). Take the opportunity to go sailing in the Bay. We bid the dolphins farewell, as we travel to Shell Beach, before continuing north via Carnarvon to our overnight stay in Coral Bay. Overnight Ningaloo Club. (B/L/D)
DAY 4: Coral Bay – Exmouth
This morning we explore our destination of Coral Bay, the point at which Ningaloo Reef is closest to the shore making it one of the most accessible Coral Reefs in the world. With over 450 species of fish and 250 species of coral as well as manta rays, dugong and dolphins inhabiting, these sheltered waters, it is a must to snorkel, or take a glass bottom boat tour. Mid afternoon we travel north past Cape Range National Park to the northern end of Ningaloo and the town of Exmouth. Overnight Exmouth. (B/L)
DAY 5: Exmouth
Today we explore Exmouth, Cape Range and the Ningaloo Reef. Here we can snorkel the clear waters of the Ningaloo Reef, drift aimlessly over the coral of Turquoise Bay, or swim from a pure white coral beach and view the extensive wildlife of the Cape Range including the rare black footed Rock Wallaby on an optional cruise. Today you have the time to join a Dive Boat for a day of diving this magnificent Reef, or chase the elusive Whale Shark! Overnight Exmouth. (B/L/D)
DAY 6: Exmouth – Karijini

This morning we Depart Exmouth and travel through outback sheep and cattle stations to the Ashburton River and Beazley River. After lunch continue through the ancient mountains of the Hamersley Ranges with their spectacular rock formations and outback scenery on our way to our first camp in the amazing Karijini. Overnight camp Karijini National Park. (camping) (B/L/D)
DAY 7: Karijini
Today we head for the amazing Karijini N/P for an adventurous day trekking gorges such as: Weano Gorge and Hancock Gorge, and view Joffre Falls. After lunch we travel to Dales Gorge and do an amazing trek through the bottom of the gorge to Fortescue Falls and Fern Pool. Overnight camp Karijini N/Park.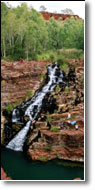 (camping) (B/L/D)
DAY 8: Karijini – 80 Mile Beach
Following the Hamersley Ranges we make our way to Port Hedland, the mining hub of Western Australia. Here we see the huge Iron Ore Port and the Mile long trains that supply the ore. From Port Hedland we travel north to Pardoo. Overnight camp at 80 Mile Beach. (camping) (B/L/D)
DAY 9: 80 Mile Beach – Broome
After a morning swim at 80 Mile Beach we head north to Broome. This is a direct run along highway number 1 and into Broome. We arrive with time for a town tour of Broome and sunset on Cable Beach. (B.L)
TOUR COST: $1495.00 p/person Accommodated /Camping
$ 200.00 p/person Twin upgrade for nights 1-5
$ 350.00 p/person Single Supplement (single room/single tent)
DEPARTURES: Saturday 16 & 30 April, 7 & 14 May 2011
**4 day Perth to Exmouth option: $595.00 p/p
**5 day Perth to Exmouth option: $695.00 p/p
**4 day Karijini Exmouth to Broome: $750.00 p/p